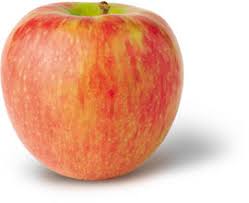 I asked for an apple, and instead received a half-severed thumb. It was ten o'clock at night, and I was craving a pouch of thinly-sliced apple. My dad would usually prepare it, since the Lehner fruit-cutting gene apparently passes down from father to son. But he was still at work, so my mom's slicing skills would have to suffice. I called for her from the kitchen, asking to cut me a honey crisp apple and transfer the fruits of her labor (get it?) into a ziplock sandwich bag so that I could eat and watch my favorite cartoon, Spongebob, simultaneously. She replied that I would have to settle for a bowl of dry Go Lean Crunch cereal because she was exhausted and didn't feel like making the journey to the kitchen.
Why didn't I feel defeated? Why didn't I just pout or beg or throw a tantrum? Ah, for you see, I had made up my mind the moment I recognized the strong craving I was having for fresh honey crisp apple. It wasn't a question of if, but how, I would realize my delicious fate. I tiptoed over to the cutlery drawer and pulled from it a long butcher's knife. I then placed the apple onto the kitchen counter and held it steady with my left hand. And, as I made my first attempt at cutting into the meat of the apple, the knife slipped off of its slippery skin and I instead made a cut into the meat of my thumb. I yelled for help as the apple was splashed with a liquid of its own complexion. My mom quickly grabbed a clean rag from under the kitchen sink and applied pressure to my wound, too worried to be upset by my act of defiance. We both hurried into the white minivan parked in the driveway and headed for the Emergency Room.
I only realized once the doctor removed the rag and cleaned the wound that I could actually see the bone of my thumb, surrounded by a mutilation of purple and yellow tissue. After the doctor repaired the damage to my thumb with stitches and a large bandage, I was cleared to return home.
Being only five years of age, my headstrong nature had already gotten me into trouble. But, I'm glad that I didn't settle for the dry, stale bowl of Go Lean Crunch. I took a risk, and I ended up in the emergency room; but I continue to take risks because, one day, I know I will enjoy the crisp, thinly sliced honey crisp apple that I've always wanted.