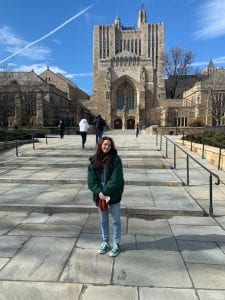 I am going to preface this blog with an apology. I know you all are tired of hearing about college. You can't listen to a single word about college anymore. Me neither. So, I'm sorry that this dreaded topic is what I will be writing about. But alas, blogs are where I vent. So, naturally,  I will be venting. Buckle up, friends. 
December 15, 2022. The fateful day. The day that would change my life forever (not really but the whole college process is so melodramatic). The day I would get the decision from the college I have dreamed about since I was 5 years old. I applied on a whim, totally unconvinced that I had any chance of admission. I did it just so I could tell my kindergarten self that I went for it. That I wasn't scared and I went for it. I was preparing myself for rejection, perhaps too much so. I was ready to be denied admission and move on to more realistic schools. I was nervous about the decision, not because I expected anything, but because I was afraid for the moment when my dream would be shut down for good. 
Status Update. I threw my phone across the room. No, no, no. There is no way that there is a decision there. But there is. Deep breath, Anna. Everything is fine. Everything is going to be fine…
The Yale Admissions Committee… has voted to defer your application. 
"HOLY SHIT!" Deferred? Deferred?! There was no way. No way that they thought I was strong enough for a second look. No way that they thought I might deserve to go to their school. I searched the letter again, looking for the words "rejected," or "denied." I couldn't find them. I was over the moon. 
The excitement faltered when I began to inform people of my decision. There were echoes of repeated condolences: "oh, I am so sorry, Anna." or "you could still get in!" Wait, what? Guys, this is a good thing. This is validating. This means all of the hard work I have done hasn't gone unrecognized. It has gone sort of recognized! Yale thinks I am the type of friend who you invite to hang out with every once in a while. The type of friend who is kind of in the group, but kind of not. The friend that's just happy to be there. Exactly right, Yale. I am extremely happy to be there! It does kind of suck that I'm not going to know the official answer until the spring. But, I can live with that. Wish me luck, everybody.