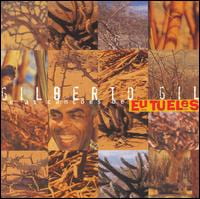 My mother is from Brazil. She didn´t have much when she came to this country. One of the few things she could bring when she came was some music from Brazil. I have been listening to these songs for almost as long as I have been alive. One of my favorite albums that my mom would play for me was the soundtrack for the movie Eu Tu Eles. It was made by Brazilian legend and former "ministro da cultura" Gilberto Gil and it won a Latin Grammy.
The movie itself takes place in the Northeast region of Brazil and so the music was made in that style and inspired by famous artists of the region, one of the biggest being Luiz Gonzaga. Gonzaga is credited with popularizing many different types of Northeastern music like Baião. Some of his songs are even covered on the album. His first instrument was the accordion, which shows up in many of the songs on the album as well.
Gilberto Gil is also a very accomplished musician. He has won countless awards and has released 50 albums. Gilberto was born in Bahia, which has a reputation for being the state that many Brazilian musicians were born in. His first instrument was also accordion, but he also took up guitar at a young age because of another famous Brazilian musician, João Gilberto. He was influenced by many different people and music which lead to him developing a distinct style, and he even made a song about it (Chiclete Com Banana on the album Expresso 2222).
The music on this album isn't all composed by Gilberto. Some of them were originally composed by Ganzaga. Nonetheless they are all worth listening to so I suggest you listen to them all, and I will leave a link here. Now I would like to talk about some of my favorite songs from this album. I really suggest that you listen to all of the songs because they are all really good.
Baião Da Penha
This is my current favorite song from the album. Baião Da Penha is an absolute Christian bop. This song is about someone going to Nossa Senhora da Penha, a famous church in Rio. He goes to the church to beg for protection of his Baião, his people, and his land. I just love the energy of this song and also has a great flute solo to open it up.
Esperando Na Janela
This used to be my favorite song from this album, and I used to listen to it so much that I know the chorus by heart. In this song, a rather creepy man is talking about how in love he is. His love is waiting by her window so they can talk and he can tell her his love. I really like the bass in this song; it sets up a nice leaded back groove that I really enjoy.
Último Pau-De-Arara
This song has a very different mood from the first two that I mentioned. This song is about somebody hiding out in the desert when things aren't going so well.  He is praying for rain and hoping that the skin will stay on his cow. He will only leave when the last truck (pau-de-arara) comes. I love the bass in this song for a different reason than in Esperando Na Janela: in this song the bass gets turned up and is used to created the dire mood of the song.
Assum Preto
This song is very dark. It was original made by  Luiz Gonzaga as an metaphor for his love. He also wrote it with more of a country style of Portuguese. It is about a crow that has its eyes poked out so it will sing better, which is apparently something that used to happen there. Many lines in the song have "ai" in the middle of them, which is an interjection used for pain in Portuguese.
O Amor Daqui De Casa
This song is a bit weird, and me and my mother (who helped me translate the lyrics of these songs) couldn't understand what the lyrics actually meant. The only thing that my mother could really put together about the lyrics is that it has a four bar rhyme. In every four lines the last word of the 1st & 3rd line and the 2nd & 4th rhyme. The main reason I like this song is because of how it sounds. The best way I can describe it is as a sound wave washing over you. I really don't know how else to describe it so I really suggest that you listen to this one.