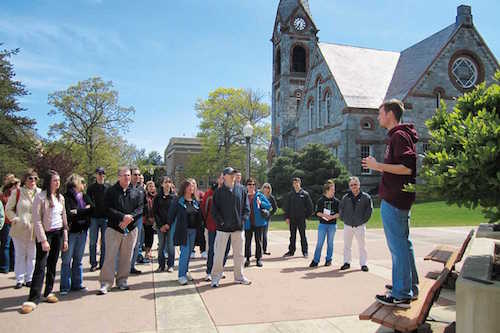 It's that time of my high school career where I've really got to crack down on what colleges I want to apply to. Two years ago, my sister went through this same process. My family and I went to all different types of colleges and universities to determine which school my sister would feel the most comfortable at. Now it's my turn.
On top of all my schoolwork, I have to find a way to squeeze in college visits. In fact, as I'm writing this post, I'm in the car with my family to go look at some schools in Pittsburgh. This is just the first of four college trips I have planned in the next couple of months.
Even though I'm very thankful that my family is able to help me find the perfect college, I sometimes wish the process wasn't so long. At a certain point, the visits become repetitive. Every time I go to look at a new school, I get a little bit nervous. What if this is the first time I step foot onto the campus I will be attending for the next four years? That thought is a little overwhelming.
No matter the outcome of the college visit, I continue to go through the motions. First I meet my group at the admissions office, then take a tour of the important academic buildings, check out the dining halls, and, if we're lucky, peek our heads into a small dorm room. Then, back in the car, my family and I debrief the whole experience: "The meal plan wasn't ideal", "Our tour guide was so nice!", "The campus isn't very diverse" and so on. Sometimes I walk away with a new t-shirt, a fancy pen, an elaborate pamphlet, or a sticky piece of candy. The weeks that follow my campus visit, my email is peppered with emails from that college. Those emails are a constant reminder of all the researching and deciding I've yet to do. With so many choices ahead, the decision I've already made puts me at ease: It will all work out somehow.