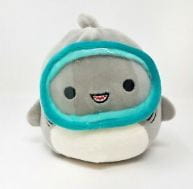 In honor of senior spirit week's Marsupial Monday, I dedicate this blog post to Gordon the Gray Shark, my very own bashful buddy whom I have taken to carrying around in my (backpack) pouch, even when unprompted. What can I say?—he's my lucky charm. This 5" softie has all the physical characteristics of his fuller-sized counterpart—sleek gray skin with a round white belly, three fins (in the north, west, and east cardinal directions as per the image above), wide black eyes which are more like bottomless pits of emotional depth, a smiley smile with a carnivorous killer's teeth (never fret, dear reader—the dude is a self-conscious vegan, bless his soul), silly gills, and most importantly, brilliant blue goggles for the brilliant blue brine. That's right; my guy Gordo is sensitive to salt water! Better salvage those shining stars, eh? And as a responsible plushie parent, it is my moral obligation to protect his health and well-being first and foremost. Hence this oh-so fashion forward safety measure. We aren't deep sea diving here, people; Gordon and I prefer to splish-splash in the shallow end.
But let's submerge into more intimacy. According to the Squishmallows Wiki fandom, I need not fear (for) Gordon, as he is "one of the friendliest Squishmallows around (enthusiastic exclamation point)!" My beloved "loves helping others so much that one day he wants to start his own nonprofit." Profound or what. How freaking adorable (and admirable) is that! Evidently, I have much to learn from the little fella. For now, though, I am content to be helped by his cuteness overload. Especially this Marsupial Monday. Whoot whoot!
* It should be noted that this occurred only once, during an especially challenging school day. I have not surrendered myself wholly to inanimate object separation anxiety… yet.